Deep Purple were without doubt the first proper 'heavy rock' band I got into after my dad borrowed 'Made in Japan' from a work mate some time in the mid 1970s. He didn't really like it. It was a bit TOO heavy for him- he preferred the 'Frampton Comes Alive' album he borrowed around the same time. However I was immediately drawn in by the glossy golden gatefold sleeve, the picture of the band live on stage and the purple label with the white 'P' on the records. I loved Gillan's screams, Blackmore's distinctive lead guitar and Jon Lord's hammond organ but most of all I loved Ian Paice's 10 minute drum solo on The Mule. I taped the album before dad took it back to work and I played it to death!
It wasn't long before I was one of Deep Purple's youngest fans and, inspired by an older relative (are you reading this Laurie Sutton?!) I had acquired half a dozen albums before I'd even got to 'big school'. Mum would often take me into Selectadisc in Nottingham's Bridlesmith Gate and, as a treat for being a brave kid at the dentist (I'd been referred to a specialist in town to have a brace fitted) I was allowed to choose a Deep Purple album to add to my collection. By the time I was 11 I already owned Fireball, In Rock, Burn, Stormbringer and Come Taste the Band! Naturally I then became a fan of Gillan, Rainbow and Whitesnake from a very early age.
Now that I have set the scene you can probably imagine how giddy I was when Deep Purple MkII reformed in 1984 (I was now 17), releasing the Perfect Strangers album and announcing their Knebworth Fayre event the following summer. This was their only UK concert that year but I would finally get to see my heroes! If that wasn't enough they would be joined by The Scorpions, Meatloaf, UFO, Blackfoot, Mama's Boys, Mountain and Alaska – a pretty decent line-up at that time.
The day arrived and, as was customary back then, me and my mates travelled to Knebworth on a Way Ahead Rock Trip coach. We had a lot to drink on the coach, we shared a joint with some hippy called Tony on the back seat and I can vaguely remember an irritating discussion between a group of 'musos' who were bragging about the bands they had seen live and how many years they'd been gigging. This was all too much for one bloke who shouted up "I SAW GENESIS BEFORE THEY WERE EVEN FUCKING INVENTED….NOW STICK THAT UP YOUR ARSE AND SHUT THE FUCK UP!"
Hippy Tony was later seen splashing around in a rain-filled ditch, trying to find his 'baccy tin' AND his glasses which had both fallen in while he was taking a piss. Cruelly we left him there… (sorry fella!)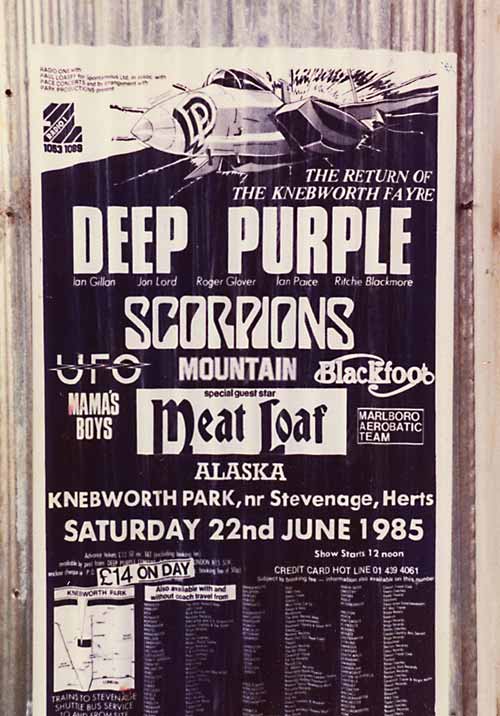 One of the oddest things about the day was that the festival hadn't secured a liquor license so there were no bars on site and bottles and cans had been banned (at a bloody rock festival FFS!). Obviously this didn't stop most folks arriving with booze, lots of booze – and those who hadn't taken the trouble to disguise theirs decided to drink it all before reaching the gates! I distinctly remember one group dragging a huge black 'bin bag' full of bottles and cans in the very long queue to the entrance. They were completely off their faces and doing their best to kneck everything they had taken so that the security guards couldn't confiscate it and pour it away. As they got closer to the gates they began passing back some of their beers and spirits to people further up the queue in exchange for fags (that's cigarettes for the benefit of our American cousins!). I actually acquired a full bottle of Malibu rum in a swop for 2 or 3 'John Player Blues' and we polished it off in a few seconds flat!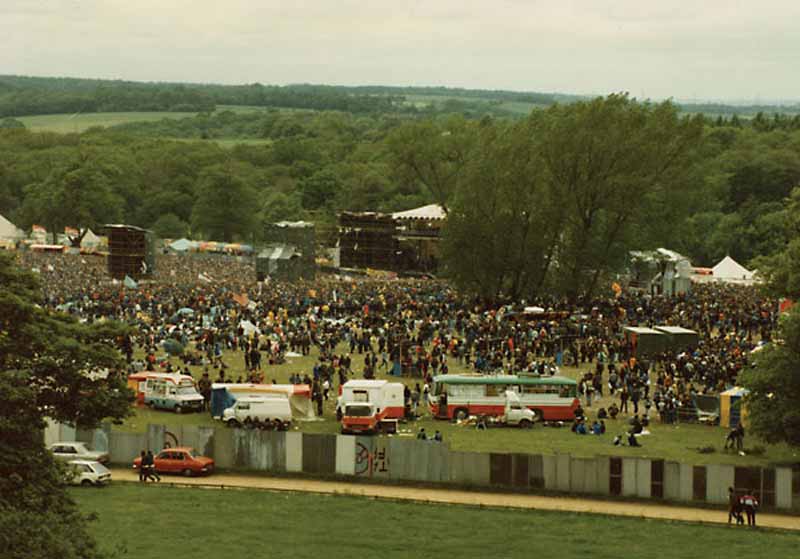 You can imagine what state some people were in before the first bands had even hit the stage around 11.30am. However this was nothing compared to the state of the site as the heavens opened up that day. The place resembled the Somme in places – it pissed down constantly throughout the day but we wouldn't let this dampen our spirits. Me and my mates spent much of the afternoon huddled under a huge plastic sheet with a group of metal heads from the North-East of England (I would say they were 'Geordies' but I wouldn't want to offend any 'Mackems' if they were actually from Sunderland rather than Newcastle!) They had smuggled in all sorts of 'moonshine' which they were more than happy to share, including a POTATO WINE which I remember was pretty potent and some lethal absinthe. Potato wine isn't something I was familiar with back in 1985 nor can I say that I've actually come across the stuff since then but it definitely made for an enjoyable afternoon watching bands in the mud!
Oh….almost forgot about the bands! Let's see what I can remember about them…
ALASKA – sod all. They came onstage early and we probably missed them whilst sinking that Malibu in the queue to get in!
MOUNTAIN – slightly more than sod all. I can remember them playing Nantucket Sleighride (theme to 70s current affairs show 'Weekend World') but that's all I can remember about their set
MAMA's BOYS – 3 brothers from Northern Ireland, played a great set including one or two songs featuring an electric fiddle which was a bit of a novelty. Closed with a cover of Slade's Mama We're all crazy now.
BLACKFOOT – Awesome American southern rock band. One of the day's highlights and they really lifted the crowd when they came on. I think the sun even made a brief appearance during Morning Dew. Top tune…
UFO – veteran rockers played a mix of new and old and with new Japanese guitarist Atomic Tommy M. Opened with Blinded By a Lie, closed with Lights Out and Doctor Doctor. Gutted they didn't play Rock Bottom!
MEATLOAF – Shite. Performed with his leg in plaster. Attempted to run across the very wet stage and landed on his arse. "Like a twat out of hell he was gone, gone, gone… ' Utter shite.
THE SCORPIONS – absolute stonking set from the Germans who pretty much played their 'World Wide Live' album track by track. Great to watch too…
DEEP PURPLE – Lived up to expectations, for me and my mates at least, even if we had to wait a while for them to come on (seemed like a couple of hours!) Blackmore was his usual grumpy self but so what? Incredible green laser show over the crowd – a fairly new thing at the time – and a pretty spectacular firework display at the end.
When we eventually returned to our coach, soaked to the skin, we found that it was stuck in the mud – as were most vehicles in the car park that night. We had to help push it out, consequently getting covered in even more shit ourselves! We finally got back to Nottingham around 5am the next morning – cold, wet but full of great memories and not at all put off by the 'festival conditions' which I would become accustomed to in years to come when I started going to Glastonbury! (Blogs to follow)
Knebworth 1985 was definitely my festival mud bath baptism…
I have some recordings of Knebworth 1985 taped off BBC Radio 1 shortly after the event. I refer to these in another blog post below and will upload the actual recordings in the near future. Join the Music In the Attic Facebook group for the latest news as it happens… (link HERE)
Old tapes reveal hidden treasures…
Read more here
Want to know more about Knebworth 1985? There's some great info and photographs on other websites, including this one here..